Air Duct Sealing can be very important for the benefit of your family and dear ones. It is the ducts that extend out from your central air conditioning or heating system, transmitting the air that is generated by the system to numerous corners of your premises. They're usually tucked away in the basement, attic or a small crawling space, keeping them out of sight and mostly out of mind for most Edmonton homeowners. These systems are designed to be quite efficient in operating to the maximum capability, but when leaks appear or there is a breach, it can be very difficult to spot them.
That is the reason why reliable air duct sealing services from Duct Guys can be beneficial. We have the ability to not only identify the particular point of the leak, but also to seal it in the most efficient and correct way, so it stays fixed for a long time. If you have doubts that your ducts have a leak that needs fixing, and don't want to try anyone but the best, then contact our highly experienced and well trained staff to set up an appointment as soon as possible.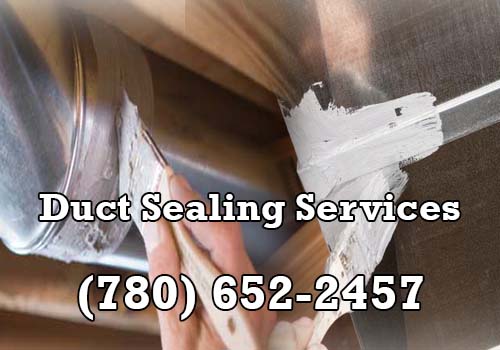 Why choose us for Air Duct Sealing Services in Edmonton?
We guarantee your satisfaction. We always keep you in mind and want you to stay in a comfortable room.
Our quality certified team of experts tackle any air insulation and leaks issues.
Our company offers timely and affordable services to our customers.
We inspect your air duct system to ensure that we balance all the air and determine its supply.
Duct Guys provide effectiveness in savings. You save on energy, time and replacement costs.
Reach out to us for your air duct inspection and sealing any present leaks. A call is enough to see our experts attending to your air duct sealing services. 
What is Air duct Sealing?
Air duct sealing is a process which involves identifying air duct leaks and locating holes where air might be escaping from. Are you wondering what an air duct is or whether you have one at your place? Air ducts area mainly associated with Heating, Ventilation and air Conditioning systems  to ensure air travel throught the whole home.
 It is easy to identify that your ducts are poorly performing and that they require sealing from qualified experts.
We at Edmonton Duct Guys are happy when your home is well ventilated, when you are breathing in pure air and having highly functioning air ducts.
We use modern-technology equipment to examine your air ducts. After locating any possible air duct leaks and cracks, we take action immediately. All our customers come with testimonials after our impressive work.
What are the Benefits of Air Duct Sealing?​
Quality and clean air
Sealing your air ducts stops air pollutants from reaching your home. You're therefore, able to live in well ventilated room.
Safer living environment
If you have leaking ducts, it may make gases emanating from furnaces, cloth dryers and water heaters get back indoors instead of expelling it outside. Sealing your air ducts reduces the peril of inhaling those harmful gases like carbon monoxide.
Protection of the environment
Air ducts with leaks pollute the environment. The fossil fuels we use to generate energy in our homes release harmful gases to the environment. Sealing your air ducts is a sure way of reducing environmental pollution.
Saving your money
Leaking ductwork makes your system strain to conduct its work. The performance will be inefficient and more-power consuming. You will incur high energy costs or face breakdowns which will need you to replace the entire system.
Less allergens and dust
Allergens do not kill instantly but will bring about a good degree of discomfort and itchiness. Cracked duct work may bring in allergies and dust in your room. Sealing your ducts can completely keep them at bay and out of your indoor air.