At Edmonton Duct Guys, we use specialized and the most recent cleaning equipment to clean your furnace and commercial duct projects. We are joyous when you live in a healthier workplace and pay low energy costs. It is also our mission to ensure that our beautiful planet remains in a green and smart condition.
Our company specializes in Commercial as well as residential duct and furnace cleaning services in Edmonton, Spruce Grove, Stony Plain, Sherwood Park, Beaumont, Nisku, Devon, Leduc and St. Albert, Alberta.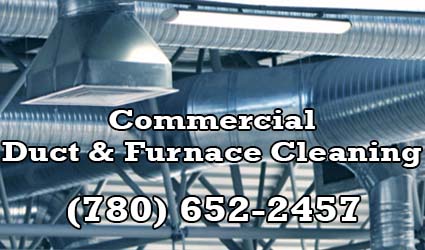 What Commercial establishments benefit from Air Duct Cleaning Services?
We proudly offer Commercial HVAC Duct Cleaning services throughout Edmonton and surrounding areas for the following types of commercial buildings:
Nursing homes
Hospitals
Veterinarian clinics
Schools
Universities
Condos
Office Buildings
Apartment Complexes
Restaurants
Grocery Stores
Shopping malls
Manufacturing Facilities
Factories
And more
How do commercial ducts get dirty?
Many commercial establishments wonder how their air ducts get dirty. Dust is the major cause of ducts being dirty. It is suspended in the air and some of it forced into the HVAC system. Other pollutants include: Mould, smoke and chemicals. These can get lethal to your health and to the machine when not kept in check at regular time intervals.
The air filters remove some contaminants but some do accumulate there over some time.
When moulds heap on your commercial ducts, they could get blocked up. Black mould is common in commercial establishments and is harmful. We deal with cleaning them, depriving you of any that that they tend to throw your way.
Dust makes commercial ducts dirty by clogging them. When the dust combines with the moisture arising from the humid air ducts, your HVAC system becomes nasty and moulds will multiply. It's also possible for dust mites and allergens to be present.
At Duct Guys we understand the importance of thorough duct and furnace cleaning services for commercial establishments. We continuously work to satisfy our commercial clients with our professional furnace and duct cleaning services.
Commercial Air Duct Cleaning for a Healthier Workplace and Lower Energy Bills
At Duct Guys, we clean your ducts and furnace efficiently. We remove all the contaminants on your ductwork and enable you to save on energy expenses. Our goal is to ensure that you stay in a healthier workplace for we are aware that you are into business to make money.
We clean up all present moulds, dust and any other dirt present. You will therefore, live in a clean workplace, free from allergens. Employees who have respiratory disease and allergies will have been taken care of.
Clogged ducts and furnace don't do their work efficiently. They use lots of effort to do their role making them utilize more energy than the required. This in turn increases your energy bills.
If in need of stellar commercial duct and furnace cleaning services, don't hesitate to call us. Our highly industrious technicians will visit your organisation. We will assess its size, and the right type of cleaning services it requires.
Our commercial air duct cleaning services are vital in increasing your return on investment for your business or organizational establishment. Clean them with us and easily achieve your goals as a commercial entity.