Cleaning your furnace regularly is extremely important. Furthermore, it is advisable that you clean your furnace before and after the winter season with the help of furnace cleaning service in Edmonton.
Cleaning before the winter starts is essential because you whisk away any dirt that might have accumulated over a period of use. As a result, you will also identify any necessary repairs and take action.
Cleaning your furnace after winter enables you to clean out all dander that has accumulated during the winter season. We have a team of professional furnace cleaners that have the experience required to get the job done effectively. At Duct Guys we understand the importance of cleaning furnaces professionally from time to time and that is the reason why we offer reasonably prices packages for furnace cleaning in Edmonton, Sherwood Park, Beaumont, Stony Plain, Spruce Grove, Leduc, St. Albert, Nisku and Devon.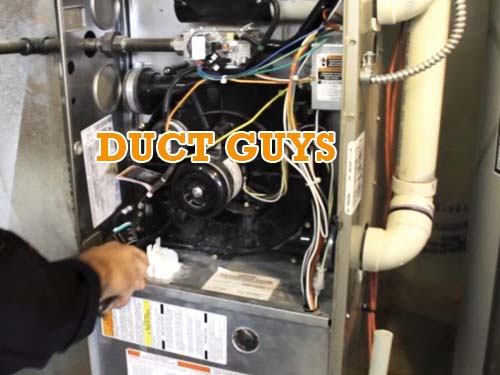 Why is regular Furnace cleaning important?
Improper maintenance and cleaning is the major cause of furnace faults in most cases. Cleaning and maintaining your furnace helps you reap from the efforts applied.  For furnace cleaning Edmonton, here is how the magic gets to happen
Saving Energy Costs: A clean and well-maintained furnace makes it work at its intended rate. You're able to save on your energy bills. With hiking energy bills, this is a sure way not to get milked for your hard earned cash.
Gaining more Comfort with more efficient running machinery: The purpose of a furnace is bringing consistent heat to you. Cleaning it perfectly and maintaining it makes it produce heat optimally.
Saving money and time taken to repair or replace: Cleaning and maintaining your furnace regularly helps you save some money which could have been used for replacements arising from breakdowns.
Enhanced Furnace Longevity: Professional cleaning and maintenance of your furnace makes the technician detect the necessary repairs to be made. This makes your equipment run longer. The moving parts can as well be lubricated to prevent wear and tear. Additionally, this vents you from the time wasted during furnace downtime.
What makes us the best furnace cleaning company in Edmonton?
Duct Guys Company's services are affordable for everyone
We always have you in mind. Our key aim remains to make you feel satisfied from our premium furnace cleaning and maintenance services. We also offer huge discounts if there are repairs to be made.
Our team is always available and reliable
We are available to satisfy you any time of the day. Our customer service is superb. Upon your request to see us, our technicians will be directed to where you are exactly. All our services are customer oriented as we will meet all your expectations of us.
Skilled team that consists of professionally trained and certified furnace technicians
Our technicians are conversant with all models of furnace. We ensure that we give the furnace service it requires. In our company, we always strive to be up to date on all furnace modernizations.
We are experts in cleaning and maintaining your furnace. Our company offers cleaning and maintenance services for all furnace models.
We are punctual and efficient furnace cleaners
A phone call is enough to make Duct Guys reach you in a timely manner and satisfy your furnace-related needs.