Duct cleaning Edmonton means making air ducts clean by removing filth, dust and dirt from the ductwork. You are then able to breathe well, live in a purer environment and have sufficient flow of air.
If you are looking for duct cleaning and maintenance experts, Duct Guys has got you covered in a quality, affordable and timely manner. Our cleaners are highly experienced. We ensure that we clean your ductwork perfectly.
At Duct Guys, we offer residential duct cleaning Edmonton, commercial duct cleaning, furnace maintenance and dryer vent safety services.
We provide you with a current license number instantly on your request. That's how professional we are. We use very powerful and efficient vacuum cleaners to take away all dirt and dust. Our main goal is to ensure that you stay in a tidy, duct-free indoors with efficient flow of air. We are licensed, insured and bonded for the services we provide.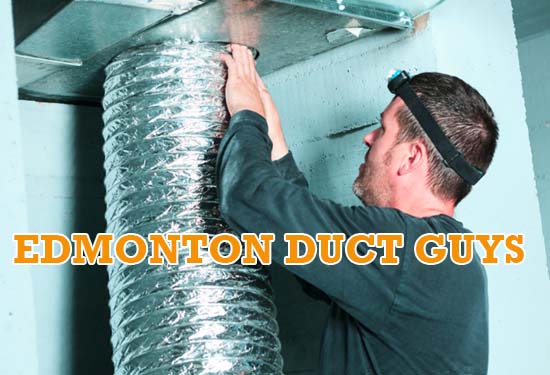 Why is duct cleaning important?
Free circulation of indoor air: Dust and debris which accumulate on your ductwork prevent the efficient flow of air. Cleaning your ducts makes you live in a healthier environment. This is of great important to keep our respiratory systems' health in a prime condition, equally our general health too. Most people tend to forego this important cleaning exercise that should be carried out often.
Prevent Diseases: Dirty ductwork has dust particles which could contain airborne diseases. Getting the ducts cleaned professionally protects you from allergens and other polluted-air related health hazards.
Reduction in Expenses: Filthy ducts make your system strain to do its intended purpose. This makes it consume more energy and increases the repair costs. Making sure that your ductwork is cleaned reduces the energy bills. A smart home should incorporate regular duct cleaning routines for efficient power use.
Extension of the HVAC component's life: The HVAC component needs to be cleaned thoroughly. Clean ductwork gives it a long life and provides an effective performance. You are also able to save on replacement and repair costs. It is always better to prevent rather than cure.
Elimination of moulds: Cleaning the ducts in your premises professionally eliminates both back and house mould. Moulds can be a threat to your family.     
Why Choose Edmonton Duct Guys Company for duct cleaning services?
We offer affordable duct cleaning services and in some ways cheap duct cleaning. We ensure you see the value for your money by meeting all your duct work cleaning expectations.
Our company is certified and licensed to offer duct cleaning services in Edmonton. We adhere to all authorities' legislations.
At Duct guys, we use the current duct-cleaning vacuums to clean your ducts. Our goal is to make the whole process effective and leave your duct work tidy.
We are Edmonton's best duct cleaning company. Book us for your duct cleaning and realize our expertise. We will always meet and pass all our clients' expectations.